This event has passed and sales are now closed.
Event Details
Burlesque Idol is a high-energy and deliciously entertaining evening, jam-packed with talent, humour and audience participation. Every show features a dazzling array of rising burlesque talents and a panel of judges comprised of burlesque promoters, producers, and world-renowned burlesque artists! A night where you choose who wins!
Founded by Lola LaBelle in 2010 in London, where it continues to run in the city's prestigious West End under the creative direction of House of Burlesque. With 8 years in London, shows in New York City, Boston, Los Angeles, and now a 6th upcoming national tour of Australia, Idol is pleased to be amongst the world's largest burlesque competitions, and the most international.
"Burlesque as it should be: bold bawdy, and absolutely beautiful" Three Weeks Magazine
"Reality TV and talent shows have spawned all manner of parodies and spin-offs, and Burlesque Idol is one of these. Raucous, chaotic and hilarious, this is a mad cross between Eurovision and Australian Idol." The Age
"Warm and intimate, rowdy and carefree, Burlesque Idol was a rollicking ball of fun from start to finish." Scenestr
"The night was bursting with laughs, sexiness, talent, personality and a genuine connection between the performers and the audience." Scenestr
"The best of Burlesque" TNT Magazine
- - - - - - - - - - Contestants Holly Hornet Jordana Jupiter Rayne Mama La Roux Ophelia Curves Silla Black Veronica Valentine Vixen DeLicious Host TBA Judges/Celebs Sarina del Fuego
TICKETING INFO
This is an 18+ event.
Dinner & Show packages include entry, seating and a one course meal (main).
Some Dinner & Show Bookings may be on a communal table. Please let us know at the time of the booking as a special request should you prefer not to share, and subject to availability, we will do our best to accommodate.
DOORS OPEN AT 6PM
MUSIC STARTS AFTER DINNER SERVICE, AROUND 8:30PM
SET TIMES ARE SUBJECT TO CHANGE FROM SHOW TO SHOW
PLEASE NOTE THE FOLLOWING:
When General Admission Ticket sales have closed on the day of the show they may still be available at the door on the night.
Once purchased tickets are non-refundable & non-transferable
(applies to both Standing and Dinner sales)
A booking fee applies to all advance tickets. (All quoted prices include tax).
Please note: tables cannot be joined together on the evening. Please ensure everyone you wish to seat at your table is included in your booking to avoid being seated separately.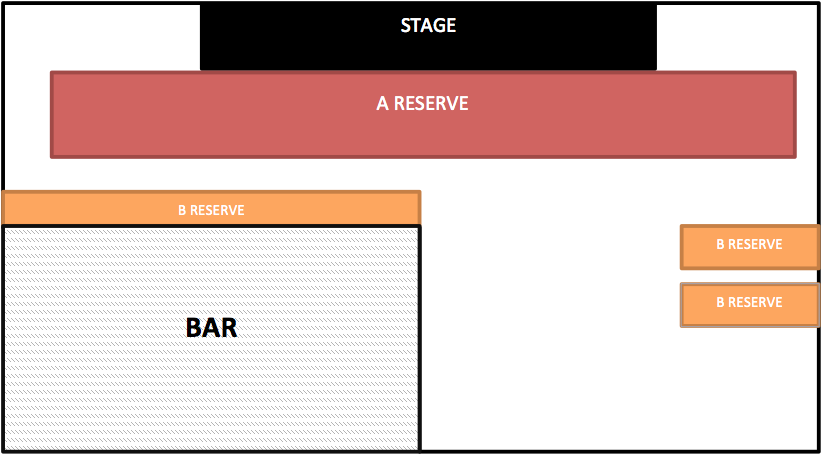 A RESERVE (INDIVIDUAL TABLE)
B RESERVE (HIGH TABLES AND STOOLS)
VENUE INFO
Over 18's only unless advertised otherwise.
All children under 18 not permitted including small children and babies.
Photo ID is essential, acceptable ID is a current and valid Australian Photo Drivers Licence or Passport
(Please check with the venue for any other acceptable forms of photo ID).
The venue reserves the right to refuse admission to any person.
Intoxicated persons will not be admitted.
No thongs or steel cap boots.
Dangerous behaviour including Crowd Surfing, Stage Diving, Moshing and Violent Dancing is not allowed and will result in your immediate removal from this venue.
Inappropriate behaviour at this venue will lead to your banning.
Other Events

NYE The Mast Precinct, Bradleys Head 2019
starts Tue 31 Dec 2019, 3.00pm
at Bradleys Head – The Mast Precinct, NSW
---

NYE The Amphitheatre, Bradleys Head 2019
starts Tue 31 Dec 2019, 3.00pm
at Bradley's Head Amphitheatre, NSW
---

NYE Athol Lawn, Bradleys Head 2019
starts Tue 31 Dec 2019, 3.00pm
at Bradleys Head – Athol Lawn, NSW
---

NYE at Strickland House 2019
starts Tue 31 Dec 2019, 5.30pm
at Strickland House, NSW
---

NYE Goat Island 2019
starts Tue 31 Dec 2019, 6.30pm
at Goat Island, NSW
---