BASSINTHEGRASS Announces Massive Lineup To Join Macklemore In 2024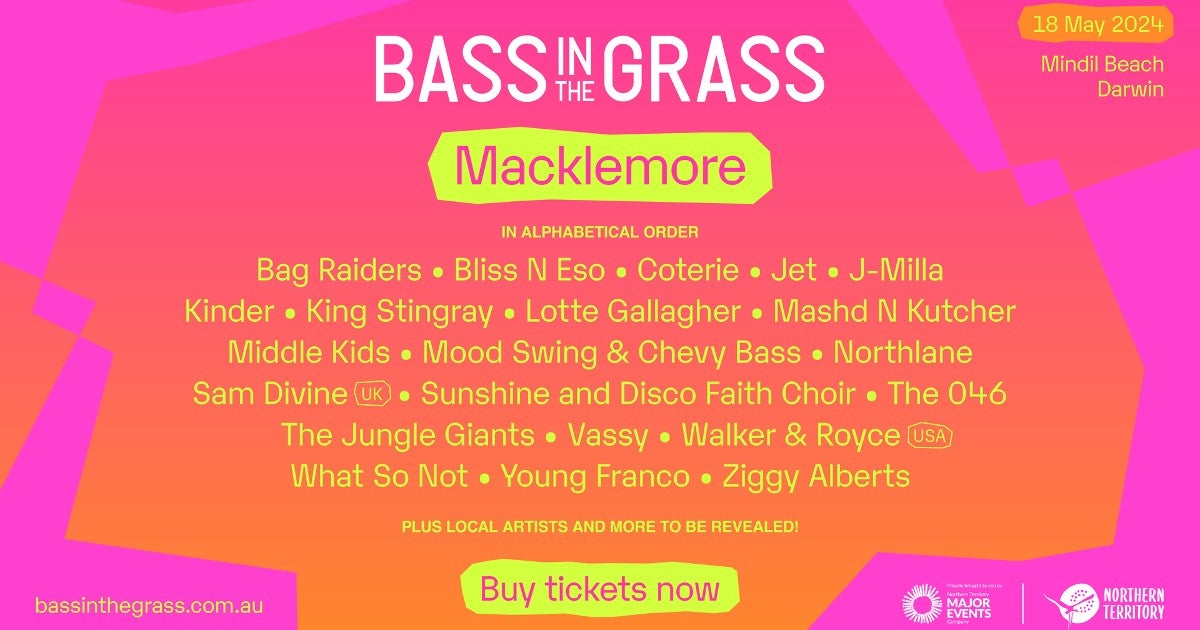 The lineup for the Northern Territory's biggest music festival BASSINTHEGRASS is here, and it's bigger than ever. Including American rapper and singer Macklemore, BASSINTHEGRASS will welcome 22 Australian and international artists to Darwin in 2024.
Macklemore is making limited stops across Australia and New Zealand, and BASSINTHEGRASS is the only music festival he will appear at. The stellar 2024 lineup is also set to feature Bag Raiders, Bliss n Eso, Coterie, King Stingray, Middle Kids, The Jungle Giants, Ziggy Alberts, Young Franco and many more!
Head north this winter and dance under palm trees and clear blue skies at Darwin's iconic Mindil Beach on Saturday 18 May 2024. Enjoy hours of live music with a diverse range of music on offer, including pop, hip-hop and electronic dance music (EDM), with EDM artists to take over a new 360-style stage, BASSment.
Tickets to BASSINTHEGRASS 2024 are on sale now! Check out the full lineup below and get your tickets locked in.
BASSINTHEGRASS 2024

Sat 18 May 2024
Mindil Beach, NT
LINEUP
(A-Z)
BAG RAIDERS
BLISS N ESO
COTERIE
JET
J-MILLA
KINDER
KING STINGRAY
LOTTE GALLAGHER
MACKLEMORE (USA)
MASHD N KUTCHER
MIDDLE KIDS
MOOD SWING & CHEVY BASS
NORTHLANE
SAM DIVINE (UK)
SUNSHINE AND DISCO FAITH CHOIR
THE 046
THE JUNGLE GIANTS
VASSY
WALKER & ROYCE (USA)
WHAT SO NOT
YOUNG FRANCO
ZIGGY ALBERTS
FAQS
When are BASSINTHEGRASS 2024 tickets on sale?
Tickets for BASSINTHEGRASS 2024 are on sale now! You can buy them here.
Are there VIP tickets?
Yes! New premium event experiences at BASSINTHEGRASS 2024 include The Terrace, offering an exclusive hosted experience for festival connoisseurs on a raised platform close to the side of stage; Oasis, with great views from a prime location side-of-stage; and ReFresh, providing busy music lovers with a place to take a breather and beat the queues.
Are there any age restrictions?
BASSINTHEGRASS 2024 is an all-ages festival! Carers and children aged 13 and under can attend BASSINTHEGRASS free of charge when accompanying a ticketed guest or guardian.
FOR MORE BREAKING NEWS CLICK HERE