The Local List: 10 Events To Check Out Across Australia And New Zealand This Month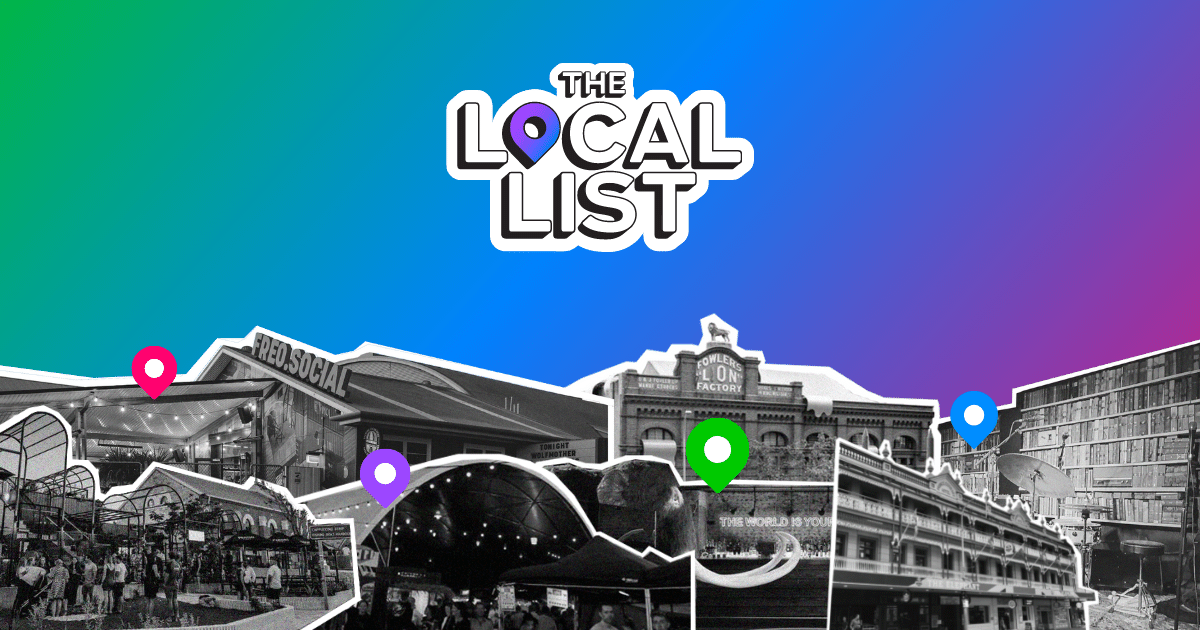 Keen to get back to live? With everyone being out of the lockdown woods, we've handpicked some of our favourite gigs coming up over the next month to help catapult you back to living your best life front row at some of the greatest local venues that Australia and New Zealand has to offer.
Looking for more events near you? Check out our dedicated Local List page HERE (AU) & HERE (NZ). We'll keep these pages updated with all of the best events coming up across Australia and New Zealand, so make sure you check back regularly for new event listings!
Brisbane
S.A.S.H Brisbane Boxing Day Long Weekend @ The Prince Consort, QLD
Sun 26 December - Mon 27 December 2021
It's been a long time coming, and now with the easing of restrictions, get ready to send it this boxing day with the slickest Sydney selectors joining ranks with S.A.S.H very own Brisbane crew! You'll find Persian Rug, Le Brond and Sansom outside on the terrace joining our residents Chris George and Kyle Burchill, alongside Sydney/Queensland expat-repat-expat Jackson Winter. Secure your spot HERE.

Canberra
Kirklandd - SUCCESS $TAINS Live with ARCHIE and Lil Spacely @ UC Hub, ACT
Sat 18 December 2021
Following the release of his debut EP last year, 'The Love Divide', and a recent co-sign from T-Pain, Kirklandd has just announced the release of his new duology, 'SUCCESS $TAINS'. Boasting the anthemic single 'man of my word' featuring Lil Spacely, who's previously performed at Rolling Loud, Listen Out and FOMO, the two artists have created a link between the Canberra and Western Sydney hip hop scenes for the first time. Get your piece of the action and jump on tickets HERE.
Sydney
Tigerlily @ Marquee - The Star Sydney, NSW
Sat 18 December 2021
Tigerlily is one of Australia's premier producers and DJs. The Sydney artist is signed to Universal Music and has earned a reputation for having one of the most electrifying shows around while also making the music to match. Grab your tickets HERE.
Wollongong
Alpha Wolf 'A Quiet Place to Die' Australian Tour @ UOW UniBar, NSW
Thu 16 December 2021
Tassie-born metalcore band Alpha Wolf are bringing their new album 'A Quiet Place to Die' to the stage at University of Wollongong's Unibar. Book your tickets HERE.
Adelaide
MANE @ Lion Arts Factory, SA
Fri 17 December 2021
MANE has been one of the most exciting and unique voices to emerge in Australian music over the last few years, after the release of her debut single 'Chasing Butterflies' saw her command praise from the like of triple j and earn over 1.6 million streams. Book your tickets HERE.
Perth
BREAKFEST 2021 @ Belvoir Amphitheatre, WA
Sun 26 December 2021
Celebrate the return of live events at Belvoir Amphitheatre with the 20th anniversary of Breakfest, featuring Fox Stevenson, Skool of Thought, Ekko & Sidetrack and many more! Further info and tickets HERE.
Melbourne
The Seven Ups @ Howler, VIC
Fri 17 December 2021
After many lockdown delays, Melbourne's 7-piece heavy groove combo, The Seven Ups, are finally releasing their fourth studio album, titled 'The Old World.' The latest offering from the band is an abstruse journey into the darker fringes of instrumental music, drifting from funk to spiritual jazz and through to psychedelic fuzz rock. Book your tickets HERE.


Domingo Latino Boxing Day - Quarter Street @ The Night Cat, VIC
Sun 26 December 2021
Melbourne's heavyweights of the Salsa music scene, known for playing the 70's era Salsa Dura classics from New York, Puerto Rico and Colombia never shying away from playing their own original music made right here in Melbourne. For tickets, click HERE.


Waikato
CLUB FESTIVUS @ Coroglen Tavern, Waikato
Tue 28 December 2021
Bask in the Coromandel's orange-hued glow as we celebrate the homecoming of NZ's biggest electronic exports, Chaos in the CBD. It's a post-Xmas Festivus for the rest of us, complete with a massive supporting lineup of local legend Frank Booker, UK-based K2K and rising stars K du Carl, all playing extended sets. Suss out tickets HERE.
Auckland
12 Nights of Christmas @ The Tuning Fork, Auckland
Thu 2 December - Sat 18 December 2021
Laugh out loud in public for the first time at one of our three intimate Fork N Funny Gala Nights featuring a who's who of Auckland's comedians including Chris Parker, Tim Batt, Brynley Stent and Pax Assadi among many more. Check out tickets HERE.
FOR MORE BREAKING NEWS CLICK HERE